Waikiki Aquarium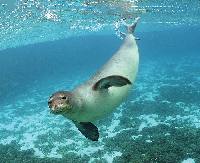 Monk Seal © flickker photos
The award-winning Waikiki Aquarium in Honolulu is home to more than 3,500 plants and animals. One of the oldest aquariums in the United States, the facility is a great place to say hello to the colourful inhabitants of the Pacific Ocean, including zebra shark, giant octopus, monk seal, sea turtles, and giant clam.
The aquarium offers classes and activities for children, however these are very popular and must be booked in advance to avoid disappointment.
Address: 2777 Kalakaua Avenue, Waikiki
Website: www.waikikiaquarium.org
Telephone: (808) 923-9741
Opening times: Daily 9am-4:30pm. Closes 3pm on Thanksgiving and New Years Day. Closed on Honolulu Marathon Day and Christmas Day.
Admission: Adults: $12, children 4-12 $5. Other concessions available.