Natural History Museum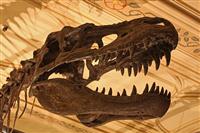 Natural History Museum © Gareth Williams
Located on Exhibition Road in South Kensington, the Natural History Museum appeals to everyone from excitable kids to discerning adults. Housed in a gorgeous Romanesque building, the Natural History Museum has often been described as a cathedral of nature, boasting fascinating collections magnificently displayed beneath vaulted ceilings. As soon as you step foot inside the museum, you are greeted by the skeleton of a blue whale looming over you. The Natural History Museum has one of the world's greatest collections of prehistoric fossils and remains, and is home to a series of animatronic dinosaurs that will spellbind kids. The Museum is divided into four zones. The Blue Zone deals mainly with animals, and (along with the dinosaurs) is famous for its life-size model of a blue whale that hangs from the ceiling, and its sabre-tooth tiger skeleton. The Green Zone presents exhibitions that focus on plants, insects and ecology, including a termite mound and a cross-section of the world's largest tree, the California redwood. The Red Zone takes a look at the earth's subterranean processes: visitors can try out the earthquake simulator, be moved by the Pompeii exhibition, and ogle at an enormous collection of gemstones, minerals, and rocks. Finally, the Orange Zone is primarily a research centre but also features several cutting-edge exhibitions that will thrill visitors, including the Attenborough Studio, where audio-visual shows are staged. Budget at least three or four hours to do the museum's collection justice.
Address: Exhibition Road, south London
Website: www.nhm.ac.uk
Telephone: +44 20 7942 5000
Transport: Within easy walking distance of South Kensington underground station
Opening times: Open daily from 10am to 5 50pm. Last entry at 5 30pm.
Admission: Free admission, though temporary exhibitions may charge a fee