Borough Market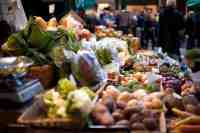 Borough Market ©
The Borough Market, located on Southwark Street at the southern end of London Bridge, is one of the United Kingdom's premier food markets, and a simply wonderful place to ramble around and find some delicious treats to fuel the day's sightseeing. What distinguishes the Borough Market is its community-centred atmosphere, with most of the stallholders either being producers themselves, or possessing intimate knowledge of the goods they are selling. Visitors are encouraged to chat to the stallholders about their produce, and to find out more about the fresh fruit and vegetables, cheeses, jams, meats and artisanal breads and pastries that are so lovingly and elegantly displayed. Perfectly situated, the Borough Market makes a great pit-stop on any walking tour of south-central London's tourist attractions. The Borough Market is also a great place to shop for special souvenirs for loved ones back home.
Address: Southwark Street, south London
E-mail: info@boroughmarket.org.uk
Website: www.boroughmarket.org.uk
Telephone: (0)207 407 1002
Transport: Within walking distance of Borough and London Bridge underground stations
Opening times: Open Wednesdays and Thursdays from 10am to 5pm; Fridays from 10am to 6pm; Saturdays from 8am to 5pm.
Admission: Free admission