Fort Knox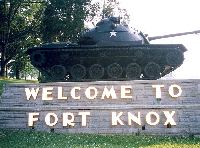 This US Army fort, located an hour south of Louisville, is world-famous as the home of America's largest stockpile of gold bullion; however, the repository is closed to visitors. A popular attraction though, is the General George Patton Museum of Leadership, which has exhibitions of US Army artefacts going back to 1775. Adjacent to the museum is Keyes Park, offering pleasant picnic areas and a playground for children to run around in.
Address: 4554 Fayette Avenue, Fort Knox
Website: www.knox.army.mil
Telephone: (502) 624-3812
Opening times: Museum: Monday to Friday 9am-4:30pm; Saturday to Sunday 10am-5:30pm. Closed major holidays.
Admission: Free