Grand Isle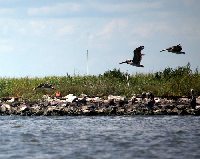 Grand Island © Wikipedia
A great weekend getaway from New Orleans, Grand Isle is a popular holiday town located on an island in the Gulf of Mexico. Formerly a busy port of call for pirates like Jean Lafitte, Grand Isle is now a haven for fishing and birdwatching. Grand Isle State Park is home to one of the top winter beaches in the US, and there is a small town of about 1,500 people nearby with a few restaurants and self-catering accommodation. Grand Isle comes alive each year for the Grand Isle Tarpon Rodeo, a salt-water fishing rodeo that draws 15,000 people annually. Another popular event is the Grand Isle Migratory Bird Festival, held each spring.
Website: www.grand-isle.com
Telephone: (985) 787 2997
Transport: Grand Isle is accessible from New Orleans via Hwy 1 and US-90.