Glasgow Science Centre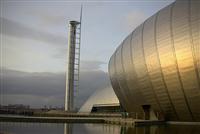 Glasgow Science Centre © Bruce Cowan
One of the city's premier tourist sights, the Glasgow Science Centre is a captivating and compelling attraction that will appeal to visitors of all ages. Located in Glasgow's Clyde Waterfront Regeneration area, the Science Centre has been awarded a five-star ranking from VisitScotland, the country's official tourist board. There is much to see and do in the Glasgow Science Centre. The heart of the Centre is its Science Mall, which features hundreds of interactive exhibits spread over three floors. On the first floor, kids will be delighted by the Giant African Land Snails and the Madagascan Hissing Cockroaches; while highlights on the second floor include a fancy console that allows you to morph your features with those of celebrities, and to view a 3D model of your face. The third floor is probably the pick of the lot, featuring brain-teasing optical illusions in the Mindworks and Alice and Wonderland exhibitions. The Glasgow Science Centre is also home to an IMAX theatre and Scotland's leading planetarium. A world-class attraction, a trip to the Glasgow Science Centre is a must for visitors to this Scottish city - and an absolute godsend for those travelling with kids in tow. Budget at least three or four hours to take it all in.
Address: 50 Pacific Quay, Glasgow
Website: www.gsc.org.uk
Telephone: 0141 420 5000
Opening times: Open daily, from 10am to 5pm (summer); open Wednesday to Friday from 10am to 3pm, and on weekends from 10am to 5pm (winter).
Admission: Science Mall: £9.95 (adults), £7.95 (children). Add-ons available for the IMAX Theatre and planetarium at £2.50 per person