Falkirk Wheel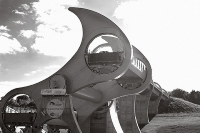 Falkirk Wheel © Martin Burns
The Falkirk Wheel, a rotating boat-lift located near the town of Falkirk in central Scotland, is an unlikely but extremely popular Scottish tourist attraction. The Wheel, which was built as part of an initiative to rejuvenate Scotland's canals and waterways, is a tremendous feat of engineering. Visually spectacular, the Falkirk Wheel has an overall diameter of 115 feet (35m), and features two 45-foot (15m) mechanical arms, shaped like double-headed Celtic axes. A landmark in Scottish engineering, the Falkirk Wheel features on the obverse of the country's £50 note.
An increasingly popular day excursion from Edinburgh, visitors to the Falkirk Wheel can enjoy 50-minute boat rides on the Union Canal that feature an exciting 'lift' on the Falkirk Wheel. Kids will also love the Waterwalkerz Activity Zone found at the site, and the whole family can enjoy the four miles (7km) of woodland walking trails that surround the area. Bicycles can also be hired. The Falkirk Wheel hosts some special events, including some deals for Christmas and similar occasions. A fun and educational day out with the kids, a trip to the Falkirk Wheel is highly recommended for family vacationers in Scotland.
Address: Lime Road, Tamfourhill
E-mail: info@thefalkirkwheel.co.uk
Website: www.thefalkirkwheel.co.uk
Telephone: +44 87 0050 0208
Opening times: Open Wednesday to Sunday, from 11am to 4pm. Opening times are extended in the summer months - check the official website for details.
Admission: Boat rides: £12.95 (adults), £7.50 (children). Concessions available.