Minnesota Children's Museum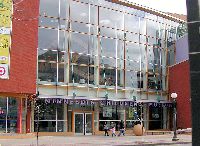 Minnesota Children's Museum © Appraiser
Children in the Twin Cities will love the Minnesota Children's Museum, aimed at kids six months to ten years old. Fun interactive exhibits allow children to go ice fishing, operate a crane, shovel coal into a locomotive engine, burrow their way through a giant anthill, or create a thunderstorm. Having entertained more than five million children since the 1980s, the award-winning Children's Museum is a must for families in Minneapolis and St Paul.
Address: 10 7th Street West, St Paul
Website: www.mcm.org
Telephone: (651) 225-6000
Opening times: Tuesday to Thursday 9am-4pm, Friday and Saturday 9am-8pm, Sunday 9am-5pm. Closed Mondays.
Admission: $9.95 ages 1 and up