Chain of Lakes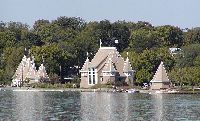 Lake Harriet © William Wesen
Minnesota is known as the 'Land of 10,000 Lakes', and there are plenty of lovely lakes within the Twin Cities for visitors to enjoy in the summers; some of the best are located southwest of downtown Minneapolis.
Lake Calhoun has a few sandy beaches with lifeguards on duty, good for sunning, swimming and volleyball, and a few good restaurants. The park offers canoe rentals and sailing lessons, and sailboarding is a popular activity here.
Lake of the Isles is a great place for a family picnic, and kids will enjoy the excellent climbing trees in the park. There are no public swimming beaches, however visitors can access the lake on boats rented from the adjacent Lake Calhoun.
Lake Harriet has excellent bike and jogging trails around the lake, and an outdoor bandshell that hosts local musicians on weekends. A popular area for families, Lake Harriet has swimming beaches, and a marina with boat rentals.
Lake Nokomis also offers a few swimming beaches and boat access. The park is conveniently located near shops along Cedar Avenue, making spur-of-the-moment picnics a fun option.