Glensheen Mansion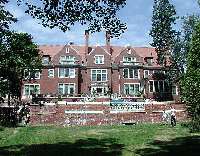 This 39-room Jacobean Revival mansion is a popular attraction in Duluth. Managed by the University of Minnesota, the Glensheen Mansion is listed on the National Register of Historic Places. The 7.6-acre grounds and carriage can be explored at leisure, and the lavishly furnished interior of the house is accessible on informative guided tours lasting 60-90 minutes. Be sure to ask the guides about the various ghosts that are said to inhabit the mansion!
Address: 3300 London Road
Website: www.d.umn.edu/glen
Telephone: (218) 726-8910
Opening times: Opening hours vary according to season, check the website for specific dates.
Admission: Standard Tour: $15 adults, $9 children 6-12. Other tours and concessions available.