Split Rock Lighthouse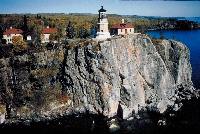 A popular tourist attraction outside of Duluth, Split Rock Lighthouse is located on the shore of Lake Superior, and was constructed following a major storm in 1905 that caused 29 shipwrecks. The lighthouse was decommissioned in 1969, and is now operated by the Minnesota Historical Society. Its picturesque location makes it a popular hiking destination, and has earned it a place on many postcards from Duluth and Northern Minnesota. The lighthouse offers tours and children's programmes, and has a gift shop.
Address: 3713 Split Rock Lighthouse Road, Two Harbors
Website: www.mnhs.org/places/sites/srl
Telephone: (218) 226-6372
Opening times: May 14 to October 19: daily 10am-6pm. October 24 to May 14: Thursday to Monday 11am-4pm. Closed Easter, Thanksgiving and Christmas.
Admission: $9 adults, $6 children 6-17. Other concessions available.