Minnesota Science Museum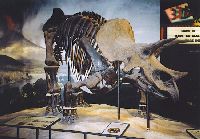 Science Museum of Minnesota © Minnesota Jones
The Minnesota Science Museum is a much-loved family tourist attraction in St Paul. Often called the most popular museum in the Midwest, the building is a state-of-the-art facility housing dozens of interactive exhibits where children can learn about weather, biology, anthropology, paleontology, and many other branches of science.
The museum is also home to a 3D laser theatre, and the Midwest's only Omnitheater, a movie theater with reclined seats that shows stunning documentaries on its giant domed screen. Conveniently located near downtown St Paul, the Minnesota Children's Museum is an absolute must for those travelling with children in the Twin Cities.
Address: 120 West Kellogg Boulevard, St Paul
Website: www.smm.org
Telephone: (651) 221-9444
Opening times: Sunday to Wednesday 9.30am-5pm, Thursday to Saturday 9.30am-9pm. Closed Mondays.
Admission: Museum only: $13 adults, $10 children 4-12. Omnitheater: $8 adults, $7 children 4-12. Combination tickets available. Special exhibitions charge separate fees.