Tikal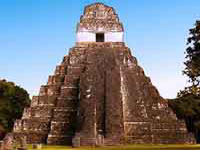 Tikal ©
Set deep in the jungle of Parque Nacional Tikal lies the most magnificent of all Mayan ruins, the Mayan ceremonial centre of Tikal (City of Voices). First occupied around 800 BC and mysteriously abandoned about 1,000 years later, its most striking features are the steep sided towering temples rising up to heights of 192ft (60m) into the green canopy of the rainforest. Scattered around the area are countless other structures, many still partially buried in the ground or having nearly succumbed to the overwhelming grasp of jungle greenery.
The central area, or Great Plaza, with its five main temples, was the heart of the ancient city and the centre for religious and ceremonial activity. It is the most impressive section, especially the two massive pyramid-shaped structures with steep steps leading up to the roofed enclosures at the top. Temple I, the Temple of the Grand Jaguar, is the main landmark of Tikal and was built to house the magnificent tomb of King Hasaw Chan K'awil. Temple II, opposite, has two grotesque, eroded masks on either side of the stairway and there are fantastic views from the top. The jungle around the ruins is alive with the sounds of bird and animal life, particularly the fearsome roars of howler monkeys, which have conjured up images of jaguars in many a frightened traveller's mind. Walking from ruined temple to temple, surrounded by the sounds and smells of the jungle, is an experience not offered at any other major Mayan site.
This combination of archaeological remains and natural environment of the jungle makes it the only place in the world to be declared both a Cultural and Natural Heritage to Humanity UNESCO Site. Visitors to Tikal are overwhelmed by the atmosphere and sheer scale of the place. There are two museums, one inside the Visitors' Centre, containing copies of some of the elaborate sculptures, bas-reliefs and stelae from the ruins, a map showing Tikal as it was in 800 BC, and items recovered from the excavations, including the burial goods of King Hasaw Chan K'awil.
Transport: 50-minute flight from Guatemala City, which is a one hour bus journey from Antigua
Opening times: Daily 6am to 6pm; extensions to 8pm can be obtained. The museums are open Monday to Friday 9am to 5pm, and Saturday and Sunday 9am to 4pm
Admission: Q150 (US$ 20 - 22)