Tikal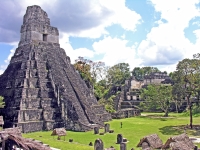 Tikal © Dennis Jarvis
Set deep in the jungle of the Parque Nacional, Tikal is home to one of the most important remnants of Mayan culture: the City of Voices. First occupied around 800 BC and becoming one of the Mayan political hubs, its most striking features are the steep sided towering temples rising up to heights of 230ft (70m). Scattered around the area are countless other structures, many still partially buried in the ground or engulfed by the verdant rainforest. The Great Plaza with its five temples served as the heart of religious and ceremonial activity. The Temple of the Grand Jaguar was built to house the magnificent tomb of King Jasaw Chan K'awiil while the Temple of the Masks has two eroded masks on either side of its stairway. The surrounding jungle is alive with the sounds of animal life, particularly the roars of howler monkeys. This combination, of rainforest and ruins, make it one of the few sites declared both a Cultural and Natural Heritage to Humanity by UNESCO. There are two museums on site, containing copies of some of the elaborate sculptures, bas-reliefs, and stelae from the ruins, a map showing Tikal as it was in 800 BC, as well as items recovered from the excavations, including the burial goods of King Jasaw Chan K'awiil.
Website: tikalnationalpark.org
Transport: Fly to the airport in Flores, 90 minutes away by bus.
Opening times: Open daily 6am-5pm.
Admission: 150 GTQ