MIT Museum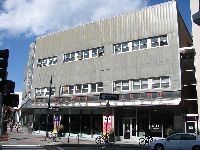 MIT Museum © Wikipedia Commons
The MIT Museum is located in Cambridge, near the campus of the Massachusetts Institute of Technology, one of the most prestigious universities in the US. The relatively small museum houses technology-themed collections of holograms, artificial intelligence, robotics, and maritime history, placing specific importance on MIT's contributions to the history of technology. Some of the most interesting exhibits are those of the MIT Hacks, elaborate pranks pulled by students each year, and don't miss the Arthur Ganson gallery of kinetic sculptures.
Address: 265 Massachusetts Avenue, Cambridge
Website: web.mit.edu/museum
Telephone: (617) 253-5927
Opening times: Daily 10am-5pm.
Admission: $10 adults, $5 children under 18.