Sam Adams Brewery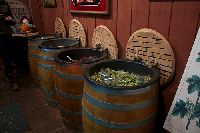 Visitors to Boston can take an informative tour of the Sam Adams Brewery, and get a look at the brewing process for the popular beer. Named for the Revolutionary War hero, the beer has been brewed in Boston since the 1980s. The tour showcases the entire process, and allows visitors to taste the special malts used. A free glass is included for visitors using the Go Boston Card.
Address: 30 Germania Street
Website: www.samueladams.com
Telephone: (617) 368-5080
Opening times: Monday to Saturday 10am-3pm (closes 5:30pm on Fridays), closed Sundays.
Admission: $2 suggested donation