Fire Island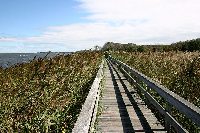 A long and narrow barrier island located off the south shore of Long Island (and within easy distance of New York City), Fire Island is a sleepy strip of land mostly occupied by private property and national seashore. All but deserted in the harsh winter weather, Fire Island thrives in the heat of summer between Memorial Day and Labour Day.
Most of the island's restaurants and hotels are located in Ocean Beach, which is a great place for nightlife; Fire Island Pines and Cherry Grove are also lively spots with active gay communities. For a quieter holiday, Ocean Bay Park and Kismet are good starting points, and camping at Watch Hill is a great way to spot wildlife.
The main headache when travelling to Fire Island is that cars aren't allowed and water taxis are notoriously expensive, but tourists who plan ahead can minimise these costs.