Ellis Island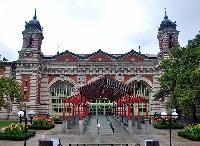 Ellis Island Immigration Building © chensiyuan
From 1892 to 1924, more than 20 million immigrants moving to the USA funnelled through the crowded halls of Ellis Island. Just off the coast of New York, it today draws millions of people each year as one of the most popular tourist attractions in New York City.
The Ellis Island Immigration Museum offers multimedia exhibits, showcasing the island's crucial role in the history of the USA through stories of various immigrants that passed through. An interesting exhibit is the American Family Immigration Center where visitors can access passenger records to find relatives.
Available in about nine languages, a 45-minute audio tour offers visitors the chance to experience the island as an immigrant might have and is a good option for those with limited time. Special children's tours are also available.
Getting to Ellis Island involves a crowded ferry ride from Battery Park, so be sure to bring a jacket. The ferry also stops at Liberty Island, home of the Statue of Liberty, making it a convenient way to see two of New York City's most popular attractions in a single morning. It's best to buy combined tickets ahead of time, as ferry queues can take several hours.
Website: www.ellisisland.org