Agadir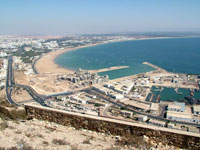 Agadir © Marcin Sochacki
The holiday destination of Agadir, south of Marrakech, is contemporary and fresh, fast developing into Morocco's major resort town. The reason? Agadier's magnificent sandy beaches.
Agadier was rebuilt after an earthquake in 1961 which wiped out most of its historic heritage as an important seaport and centre for caravans traversing the Sahara. The rebuilt city has been modelled as a tourist destination and fishing port, favoured by package tours, particularly as a starting point for excursions into the Western Sahara to the south. Agadir has a lovely promenade along the coast and a vibrant restaurant and café culture tailored towards tourists. The nightlife is also fast developing and the shopping scene shouldn't disappoint.
Conveniently, Agadir is the city in Morocco most tolerant of foreign customs which helps most tourists feel most comfortable, and helps to ease them into the their travels further into the country. The town is conveniently located near popular attractions such as the walled city of Taroudannt and the Massa Lagoon, and contains a number of luxury hotels and excellent golf courses. Agadier makes for either a comfortable start to a Moroccan journey, or useful respite for those who have already seen much of the country already.