Acropolis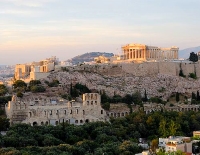 The Acropolis © Christophe Meneboeuf
Those on holiday in Athens for the first time generally head immediately for the Acropolis. There are very few visitors who are not already familiar with the image of this distinctive citadel of ancient Athens, perched on its steep flat-topped rock above the sprawling city. It is the spot where Athens, and classical Greek civilisation, began, and the site of a collection of beautiful temples, most dedicated to the goddess of wisdom, Athena.
The ruins of the Acropolis that remain visible today date from the 4th century BC, most of them erected by Pericles after the Persians destroyed many of the original Acropolis buildings. Visitors toil up the slopes past the souvenir stands and enter the site through the monumental entranceway, the Propylaia, which in ancient times contained an art gallery. To the right of the entrance is the tiny temple of Athena Nike, reconstructed and restored. The Parthenon, the greatest surviving monument of Doric architecture, is the biggest drawcard of the Acropolis, built of Pentelic marble quarried from the distant mountains, which form the backdrop to the magnificent view of Athens from the Acropolis.
Alongside the Parthenon is another temple, the Erechtheion, which, according to mythology, bears holes on its northern porch where Poseidon's trident struck it during his contest with Athena to have the city named after him. There is a museum on the Acropolis where some of the carving and friezes recovered from the temples are on show, although many of the archaeological finds from the Acropolis are now housed in the British Museum in London.
Address: Dionysiou Areopagitou Street
Website: whc.unesco.org/en/list/404
Telephone: +30 21 0321 4172
Opening times: Tuesday to Sunday 8am to 7:30pm, Monday 11am to 7:30pm (April to October); 8:30am to 3pm (November to March).
Admission: €20 for adults, under 18s free. Other concessions available.