Pavlovsk Palace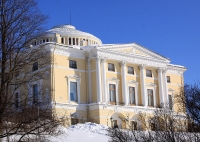 Pavlovsk Palace, St Petersburg © MartinPutz
The Pavlovsk Palace, about 19 miles (31km) outside St Petersburg, is one of the smaller and more restrained of the palaces located in and around St Petersburg. It was built in 1780 by Catherine II's son, Paul, the future Emperor Paul I, and was designed by the Scottish architect Charles Cameron and his assistant, Vincenzo Brenna, and included landscaped gardens in the British style. The palace was turned into a museum after Russia's 1917 revolution, but was almost entirely destroyed during World War II. Following the war, the palace's old furnishings and artwork were tracked down and the palace was beautifully restored.
Today the palace is once again a museum open to the public, displaying rooms furnished and decorated exactly as they were when occupied by the Russian royalty. The extensive grounds are beautifully kept and are available to visitors for strolling and picnicking. Visitors can reach the palace by train from St Petersburg, a short journey that showcases a little of the lovely Russian countryside.
Address: Sadovaya ul., 20, Pavlovsk, Sankt-Peterburg, Russia.
Telephone: +7 812 452 1536
Opening times: 10am-6pm, Monday-Sunday.