Tsarskoe Selo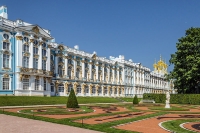 Catherine Palace in Tsarskoe Selo © Florstein
Tsarskoe Selo, meaning 'Tsar's Village', is a former Romanov summer residence located about 15 miles (25km) outside of St Petersburg. The estate was originally a gift from Peter the Great to his wife Catherine I, and over the course of many years it was developed by different emperors and empresses. The Catherine Palace, built in the Baroque style, and the Alexander Palace, built in the neoclassical style, are the main buildings on the estate.
The Catherine Palace has been kept in much better condition than the Alexander Palace, although both palaces are well worth a visit. The Catherine Palace houses the famous Amber Room, a room panelled entirely with pieces of amber and filled with amber artwork. The palaces' grounds are extensive and contain many surprising small buildings added purely for visual effect, notably the so-called Chinese Village in the Alexander Palace's gardens. The Cameron Gallery, a small building designed by the Scottish architect James Cameron in the 1780's, houses widely varied temporary exhibitions.
Tsarskoe Selo is an easy train-ride from St Petersburg's Vitebsk train station followed by a short bus ride to the palace gates, all of which should take no more than 30 minutes if there is no traffic. It is an extremely popular spot in the summer months and queues as well as traffic can get very bad, so it's a good idea to arrive early.