Crazy Horse Memorial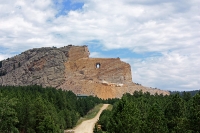 View of Crazy Horse Memorial in South Dakota © Tbennert
Located near the popular Mount Rushmore in the Black Hills of South Dakota, the Crazy Horse Memorial is a monument to Native American culture in the midwestern US. The most famous part of the monument is the giant sculpture of a mounted Crazy Horse, which is still in the process of being carved out of the face of Thunderhead Mountain. At the moment, only the warrior's face is distinguishable.
Other aspects of the memorial include the Indian Museum of North America and the Native American Cultural Centre, both of which contain art collections and other artefacts, which offer the chance to learn more about the culture of the Plains Indians like the Lakota and the Sioux.
Various events are held throughout the year, including rodeos, laser light and pyrotechnic shows, and art exhibitions. The Crazy Horse Memorial is privately funded, and relies on admission fees and donations to continue construction of the monument.
Website: www.crazyhorsememorial.org