Crazy Horse Memorial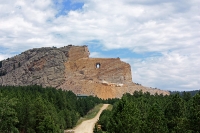 View of Crazy Horse Memorial in South Dakota © Tbennert
Located near popular Mount Rushmore in the Black Hills of South Dakota, the Crazy Horse Memorial is carved out of Thunderhead Mountain and depicts the eponymous and iconic Sioux warrior mounted on a horse. Work began all the way back in 1948.
Currently incomplete, the memorial nevertheless includes the Indian Museum of North America and the Native American Educational and Cultural Center. Both contain art collections and other artefacts, offering visitors the chance to learn more about the culture of the Plains Indians like the Lakota and the Sioux.
Various events occur throughout the year, including rodeos, laser light and pyrotechnic shows, and art exhibitions. The Crazy Horse Memorial is privately funded and relies on admission fees and donations to continue construction of the monument.
Website: www.crazyhorsememorial.org