Inhaca Island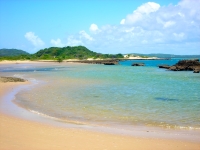 Inhaca Island © Paulo Miranda
Situated almost 25 miles (40km) off the coast of Maputo, Inhaca Island is an immensely popular African resort destination boasting beautiful beaches, some of the Mozambique Channel's best coral reefs, a historic lighthouse, marine biology museum and large areas of protected forest.
Easily accessible from the capital, it is a favourite among snorkellers and divers, who usually head for the reefs at Santa Maria, to the lighthouse, or explore the surrounding sunken wrecks. The Santa Maria reef has a strong drift current that runs parallel to the shore and is fantastic for snorkelling, while the Wall is a rocky ledge that drops 66 feet (20m) to the bottom, harbouring numerous caves and ledges filled with a variety of marine life.
Game fishing and watersports like waterskiing, parasailing, windsurfing, sea kayaking and sailing are also popular on the island. Inhaca is ringed with beautiful beaches, and visitors can enjoy a sunset cruise or take a boat across to the deserted Portuguese Island. The resort has a tennis court and swimming pool, and excursions can be arranged to the biology station, lighthouse beach, the mangrove swamps, and the Santa Maria Wall. Restaurants on Inhaca are mostly limited to the lodge; however, the nearby village has a takeaway burger stand and an attached seafood restaurant, as well as a few small shops selling typical tourist tat like sarongs and seashells. There is no real nightlife on the island, though the lodge has a bar.
Many tourists find a visit to Inhaca Island a pleasant way to spend a day, or a week, in Maputo; however, visitors should be prepared to pay dearly for every service on the island, including a 'tourist tax' levied the second you step off the boat. Swimmers should also take care, as the beaches are occasionally inundated with bluebottles.