Las Grutas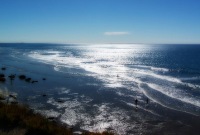 Las Grutas © Lisandro M Enrique
One look at the beautiful beaches was all the residents at Las Grutas needed to start building what would become one of Argentina's most popular resorts. The landscape is dramatic, with cliffs and plateaus shielding hidden beaches and caves, giving way to dramatic sea views.
Las Grutas has a few main beaches numbered from zero to seven, with zero being the closest to downtown. The town's position on the Atlantic coast gives it some of the warmest waters in Argentina, and the rugged coastline makes the area ideal for paragliding, hiking and other activities. There are scuba diving facilities, and several spas that offer Thalassotherapy treatments using local resources.
Las Grutas itself is a small town with a few hotels and restaurants, but it makes a great base from which to explore other interesting beaches and towns in the area, including San Antonia Oeste, Puerto Madryn, Sierra Grande, and Punta Tombo.