Tennant Creek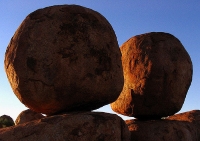 Devil's Marbles, near Tennant Creek © David Taus
Now a popular holiday resort, the old mining town of Tennant Creek, about 300 miles (500km) north of Alice Springs, was allegedly born when a beer wagon en route to an Overland Telegraph Station broke down in 1934 and the driver, Joe Kilgariff, decided to set up a store and pub at the breakdown site. Such legends abound in the Tennant Creek area, which was the site of Australia's last gold rush.
At the Battery Hill Mining Centre visitors on holiday can take a mine tour and hear the miners' stories, before enjoying a nature walk and a picnic. The small holiday town is situated at the junction of the Stuart Highway, which runs between Darwin and Alice Springs, and the Barclay Highway that travels east to Mt Isa.
Tennant Creek is an excellent point from which to make an excursion to the fascinating signature landforms of the area, the granite boulders known as the Devil's Marbles. Thousands of huge, red boulders, some nestling together and others poised on top of each other, are a compelling spectacle in this shallow valley 60 miles (100km) south of Tennant Creek. The local Aboriginal people regard the Devil's Marbles site as a sacred place, believing that the boulders are the eggs of the Rainbow Serpent.