Ambergris Caye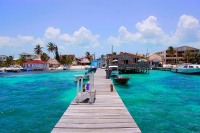 Beach at San Pedro © Adam Reeder
Ambergris Caye is the largest island off the coast of Belize, and it's a popular destination for holidaymakers looking for sun and activities in the sparkling Pacific Ocean. The 25-mile-wide (40km) island is long and slender, averaging only one mile (1.6km) in width, and is ringed by white sand beaches with mangrove swamps taking up much of the middle.
The most popular attraction in Ambergris Caye is its lovely beaches, drawing visitors for activities like snorkelling and scuba diving, deep sea fishing, and sailboating. The island is conveniently situated for those wanting to dive at the Mesoamerican Barrier Reef, the longest reef in the Western Hemisphere. Hol Chan Marine Reserve is located just south of San Pedro Town, while the Bacalar Chico Reserve is in the north.
Ambergris Caye has a lovely, laid back feel with a notable absence of high-rise resorts, and traffic jams are more likely to be from golf carts than anything else. The largest settlement on Ambergris Caye is San Pedro Town, the only real town on the island with a population of just over 12,000 people. The town is a jumble of small hotels, dive companies and souvenir shops, and there are a few bars and restaurants. While food and drink is notoriously expensive, tourists can travel to nearby Caye Caulker for the annual July Lobsterfest.