Tianmen Mountain National Park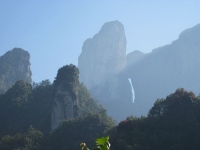 Tianmen Mountain © huangdan2060
A trip to Tianmen Mountain Park is an ideal weekend excursion from Guilin, boasting some of the most beautiful and most photographed landscapes in China. The city of Zhangjiajie nestles within the famous mountain park, from where visitors can take one of the world's longest scenic cableways up into the mountains.
Tianmen Cave, a massive archway created by an ancient cliff collapse, is known as Heaven's Gate because it resembles a doorway into another world. Travellers have to climb 999 steps to reach this natural phenomenon, but it is well worth the effort and is said to bring happiness and health, the number 999 being a lucky number in Chinese culture.
Other attractions in the park include various scenic areas, some impressive temples and the terrifying Walk of Faith, a walkway constructed of glass so that, as visitors edge along it, they can see the ground 4,690 feet (1,430m) below. The transparent pavement is a uniquely thrilling sightseeing experience, with those who brave it rewarded by truly heart-stopping scenery. The mountains can get cold, so the best time to visit Tianmen is during summer and autumn (May to October).
Address: Yongding District, Zhangjiajie
Website: www.tianmenshan.com.cn