Mount Qincheng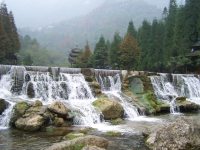 As a tourist attraction Mount Qincheng really does have something for everyone. It is located about 41 miles (66km) from Chengdu. The Mount is one of the most famous Taoist mountains in China, and it is a popular destination for travellers and locals alike, but it is usefully divided into two sides which provide very different experiences. The front side of Mount Qincheng (anterior) is the more touristy side, and boasts an impressive array of cultural and historical landmarks: there are a number of temples to be visited including the Jianfu Palace, Shangqing Palace and the Tianshi Cave. However, for those who prefer to travel off the beaten track, the back side (or posterior) is relatively quiet and unspoiled and offers a stunning hiking route along narrow mountain passes, past waterfalls and through wooded areas. This trip is a must if you are interested in bird life or the flora and fauna of the area.
Whether you're keen on the more frequented front route, or the adventurous trail at the back, the views from the summit are spectacular. Although the paths are very well-maintained, the hike is pretty demanding on both sides, but there is a cable car which can be taken half-way or all the way up. The mountain is the ideal travellers escape from crowded urban sightseeing and makes for a delightful excursion from Chengdu.
Transport: There is a direct bus to Mount Qincheng from Chengdu.
Opening times: Open daily: 8am to 5.30pm.
Admission: RMB 90