Lingyin Temple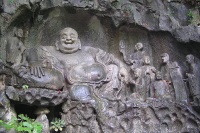 Lingyin Temple © Mr. Tickle
The Lingyin Temple in Hangzhou is one of the top 10 most famous Buddhist temples in China, and it consistently ranks even higher when voted on by tourists who have been there. It was built in 326 AD, at the foot of Lingyin Mountain, and in its heyday housed around 3,000 monks. Today, it is still one of the largest and wealthiest temples in China and is situated in the breathtaking Lingyin-Felai Feng Scenic Area.
The walkway to the temple, which winds through a beautiful forested area, is strewn with hidden grottos, alcoves and sculptures and this collection of ancient art work is a highlight for visitors. The Laughing Buddha sculpture, jovial and beautifully carved, is particularly beloved. The temple's name can be translated as Temple of the Soul's Retreat, or Temple of Inspired Seclusion, both of which aptly illustrate the wondrous atmosphere, and its situation in a lovely wilderness area.
Although you can view the famous statues carved into the mountain by gaining admission to the scenic area, the Lingyin Temple complex is definitely worth exploring. One of the many treasures Lingyin displays is a Sakyamuni statue 82 feet (24.8m) tall, which is one of the largest wooden statues in China, and has been covered in gold leaf. The temple also stores an important collection of Buddhist literature that makes it popular with scholars.
Address: 1 Fayun Alley, Lingyin Road, Xihu District
Website: www.lingyinsi.org
Telephone: 0571 8796 8665