Yuantong Temple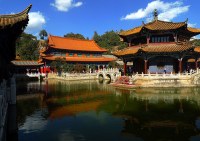 Yuantong Temple © Gisling
Unsurprisingly, the ancient Yuantong Temple in Yunnan Province, with its unique setting and architecture, is easily one of the most popular tourist attractions in Kunming. The temple is situated in a natural depression at the foot of Yuantong hill, in northern Kunming, and was built in the late 8th century. Today it showcases an interesting mixture of architectural styles, mainly from the Yuan and Ming Dynasties. It is an active temple, where visitors can hear chanting and classes being conducted as they explore; monks and pilgrims can be seen going about their daily business in the complex, which makes the experience truly authentic and allows some insight into the functioning of a Buddhist temple in the 21st century.
For a remarkable panoramic view of the temple complex, travellers can climb Yuantong Hill by taking one of the stone staircases carved into the mountain on either side of the main hall. These stairways boast the most ancient inscriptions in Kunming, carved into the stone wall and still readable after centuries of exposure to the weather. There are also some impressive statues and carvings within the temple, including two ferocious dragons carved into pillars dating from the Ming Dynasty.
Green Lake, a lovely scenic area, is a ten minute walk from the temple and there is a popular vegetarian restaurant just outside the complex.
Address: Juantong Jie, Kunming.
Opening times: Daily from 9am-5pm