Cayo Largo Del Sur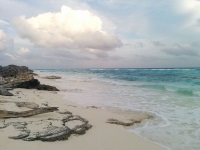 Cayo Largo Del Sur © Dnllnd
One hundred and ten miles (177km) southeast of Havana is the popular diving and snorkelling paradise of Cayo Largo. The island offers about 16 miles (26km) of white sand and crystal sea, where it is possible to swim and dive among grottos and sandy valleys full of crustaceans, sponges, coral and fish of every hue, shape and size.
There are other numerous smaller cays accessible from the beach, each with their own natural treasures such as Cayo Iguanas, an isolated spot inhabited by iguanas. The living coral reef is also a big draw for visitors. It is possible to rent motorcycles, bicycles, horses and watersports equipment to make the most of a visit to Cayo Largo, which can be reached by yacht, or by daily air connection from Havana.
Cayo Del Sur is the second biggest island in Cuba's Canarreos Archipelago and it has many special beaches to choose from. Nudity is permitted on the island and some of the beaches are frequented by nudists. The island is said to have been used as a base by pirates but now it is a tourist haven; there are a number of all-inclusive resort hotels on the island which has no permanent inhabitants unless you count hotel staff.