Varadero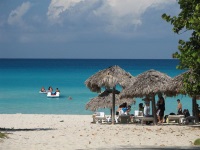 Varadero © Wilder Mendez
With 22 miles (36km) of sandy, white, palm-fringed beach, Varadero Beach has often been referred to as one of the world's most beautiful beaches. With some of the most amazing diving, fishing and snorkelling opportunities, children splashing around in the crystalline turquoise waters will even be able to spot some fantastic fish with the naked eye. Glass-bottom boat companies abound here, too. Varadero Beach is a wonderful place to spend the day, and an absolute must-visit while in Cuba.
Varadero is situated on a spit of land that reaches out into the Atlantic, a two-hour drive to the east of Havana. There are 23 world-renowned dive spots along this stretch of beach; dive centres offer dive courses, and there is deep sea fishing, windsurfing, parasailing, kayaking and sailing to be enjoyed. Outside of the water there are also numerous restaurants, cabaret spots, nightclubs, land sport opportunities, a skydiving centre, golf courses, and much more.
The hotels in Varadero, Cuba's most popular beach resort, are some of the best in the Caribbean. Al Capone used to make this his holiday hideaway when taking a break from racketeering in Chicago, living it up in some of the best hotels in Varadero. Varadero's largest shopping complex is Plaza America where fancy boutiques and all manner of shops cater to American-style consumerism; holidaymakers looking for a spending spree will not be disappointed. There are a number of artisan markets that sell a wide variety of souvenirs along Avenue 1. For cigars the Casa del Habano sells excellent quality cigars. In Varadero town there is everything from market food stalls and fast food outlets to sit-down restaurants. There are many bars in Varadero offering live music, cabaret shows are popular, and dance clubs and discos in the town cater to Cubans and holidaymakers alike. The hotels have nightly entertainment, with lots of Cuban music, dancing and cocktails on offer.
Whether you are visiting for a day on the beach, or staying at the resort for a holiday, Varadero is unmatched for its natural beauty and its touristic facilities.