Vinales Botanical Garden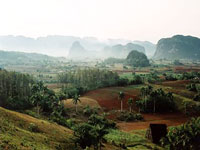 Vinales Valley © Judith Duk
Almost all of the Vinales Valley attractions revolve around natural splendour and the Vinales Botanical Garden, the Jardin de las Hermanas Caridad y Carmen Miranda, is a special addition to this panoply of natural bounty. This small botanical garden ranks very highly among things to see and do in Vinales, partly because it is so refreshingly intimate and un-touristy.
The garden was cultivated by a local family, who still live on the property, in order to preserve samples of indigenous tropical plants. It feels like a Cuban version of the Secret Garden; a riot of colour and controlled jungle which delights travellers of all ages. This is an ideal place to familiarise yourself with the flora of the region. Usually there is a family member available to show you around and teach you about all the different species of plants which makes for a lovely, personal experience. Roosters and chickens roam freely in the rambling garden and there are lots of lizards and birds. There are also some quirky decorations (dolls heads adorn some of the fence posts).
You can simply stroll into this garden from the main road of the village, and it is a wonderful place to wander alone, but be aware that although entrance is free small donations are expected, particularly if one of the family members gives you a tour. If you are lucky enough to be invited be sure to have a peek inside the house as it is also very charming.