Wooden Churches of Chiloe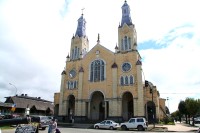 Wooden churches of Chiloe © Alastair Rae
The Spanish, who arrived in the 16th century, and Jesuit missionaries that came to Isla Grande de Chiloe in the 17th century, built hundreds of wooden churches in the archipelago in an attempt to 'civilise' the three local Indian tribes that occupied the islands. The Jesuits built more than 80 of these places of worship, and the Franciscan order later joined them and added to the region's astounding collection of chapels and churches. The 16 churches that still remain well preserved have been jointly UNESCO-listed. Visiting some of these old buildings is one of the most interesting things to see and do in Isla Grande de Chiloe.
Apart from being ancient, the churches have a unique architecture that makes them special; in fact, the whole archipelago benefits from its own style of building, which visitors find delightful. Although recognisably colonial in some ways, the mix between the local and European influences is unexpected and original to the area, possibly because isolation allowed the architectural style to develop largely undisturbed for centuries. The churches are wooden, often painted with the pastel colours associated with Castro.
Three of the most famous can be found in the villages of Chonchi and Dalcahue, and in Castro itself. They're a popular tourist attraction in Isla Grande de Chiloe, and those lucky enough to travel to this region should try to visit as many as possible.