Pukara de Quitor Ruins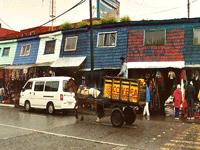 The Pukara de Quitor Ruins are a very short distance from the town and are one of the most popular attractions in San Pedro de Atacama. The fortifications were built by the Atacameno people, a pre-Incan civilization, in the 12th century. The ruins have not been excavated fully, despite being incredibly well-preserved, because they will be quickly destroyed by the elements if they are exposed further. The way they stand, half-uncovered, actually adds to the mysterious atmosphere of the place, and you can still gain a fair idea of what the structures looked like originally. To help travellers envisage the buildings as they once were a replica of one of the 800 year old houses has been built.
A bike ride or a quick hike to the ruins is one of the most popular things to do in San Pedro de Atacama. The distance is under three miles (4km) and can be walked in an hour. The path is well sign-posted and not demanding. Possibly the most astounding thing about the fort are the views from the site and those visitors who have seen more extensive and impressive ruins - like those just north in Peru - will still be blown away by the surroundings.