Makarska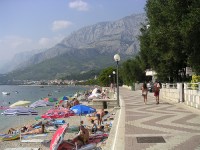 Makarska Beach © vacation2
About 30 miles (47km) south of Split is the popular resort town of Makarska, with its cobblestoned streets and natural harbour nestled in the shadow of Mount Biokovo and fringed with the two green peninsulas of Osejava and St Peter.
This beautiful spot offers secluded beaches washed by an azure sea and lies at the heart of the Makarska Riviera, which is characterised by pine forests and a string of white pebble beaches. Makarska was an important trading port throught its history, which spans occupation by the Venetians, Turks, French and Austrians, all of whom left a taste of their culture and tradition behind.
The town boasts a world-renowned collection of sea shells, a Franciscan monastery dating from the 16th century, a Venetian fountain, and several churches and Baroque palaces. However, its main attraction is its splendid natural beauty.
The main tourist area of Makarska is lined with fashionable boutiques, cafes, and bars, all a stone's throw away from the yachts and catamarans docked in the harbour. Popular photo spots include a few beautiful churches and cathedrals dating back to the 13th century, as well as monuments dedicated to Friar Andrija Kaèiæ Miošiæ and Napoleon Bonaparte.