Sex Museum Amsterdam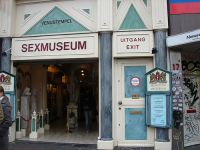 Amsterdam Sex Museum © Ankur Gulati
Amsterdam's fame as the home of legalised prostitution is well-known to visitors, so it is only fitting that the world's oldest sex museum be situated here. The museum opened in 1985 with just a few displays of 19th-century erotic objects and there was some doubt originally about how the idea would be received - it has been increasing in size ever since and is now one of the most popular museums in the city, with about 500,000 visitors a year. The Sex Museum Amsterdam is in the centre of the city (near the central train depot). Exhibits range from bawdy to downright graphic, with examples of ancient and modern art, historic sex symbols, photographs going back 150 years, and a walk-through model of the famous Red Light District. Exhibits are a mixture of art and porn and different aspects will appeal to different people. The visual representation of the evolution of cultural approaches to sex through the ages is fascinating, and there is an extensive collection of modern sex paraphernalia too. Definitely not suited for the squeamish or easily offended, the museum winds its way through several levels and photography is permitted. Visitors must be at least 16 years old to enter.
Address: Damrak 18
Website: www.sexmuseumamsterdam.nl
Telephone: +31 20 622 8376
Opening times: Daily 9.30am to 11.30pm.
Admission: €4. Minimum age to enter is 16 years of age.