Sex Museum Amsterdam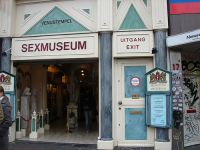 Amsterdam Sex Museum © Ankur Gulati
Along with a certain fame for legalised prostitution, Amsterdam is also home to the world's oldest sex museum. Open since 1985, the institution has grown from being a shaky idea, to becoming one of the most popular museums in a city full of interesting museums. Exhibits range from bawdy to particularly graphic, with examples of ancient and modern art, historic sex symbols and photographs all featuring. Visitors will also find a walk-through model of the famous Red Light District, and an extensive collection of modern paraphernalia. Displays are a mixture of art and porn, and different aspects of it will appeal to different people. Visitors must be at least 16 years old to enter.
Address: Damrak 18
Website: www.sexmuseumamsterdam.nl
Telephone: +31 20 622 8376
Opening times: Daily 9.30am to 11.30pm.
Admission: €5. Minimum age to enter is 16 years of age.