Lejre Research Centre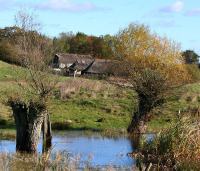 Lejre Research Centre © Krestenklit
The Lejre Research Centre, also known as the Land of Legends, is one of the most popular attractions in Roskilde. It is a 106 acre (43 hectare) archaeological open air museum situated just outside of the city. The museum consists of amazingly lifelike reconstructions of an Iron Age village and sacrificial bog (200 BC to 200 AD), a Viking market place (900 AD), a Stone Age campsite (5,000 BC), and 19th century farm cottages, all staffed by costumed inhabitants and working artisans. Volunteers actually live here in the summer months and they make every attempt to eat, dress, sleep and live authentically for the period they represent.
The Lejre Research Centre is high on the list of things to see and do with kids in Roskilde as there are so many fun and educational activities on offer for the whole family. You can cook food on one of the communal bonfires or bring your own picnic lunch and enjoy the beautiful surroundings. Activities include learning to bake bread, building and paddling boats, making fire with flint, weaving and dyeing clothes, and moulding clay crockery. Its best to come prepared with good walking shoes and perhaps even a change of clothes because some of the activities can get you dirty or wet. The centre is fascinating and could easily occupy a family for a full day so be sure to allow sufficient time.
Address: Slagealleen 2, Roskilde
Website: www.sagnlandet.dk
Opening times: Open from May to mid-September and for school holidays and special occasions. Open daily from 10am to 4pm weekdays and 11am to 5pm weekends.
Admission: DKK 130 for adults; DKK 85 for children (under 12).