Baden-Baden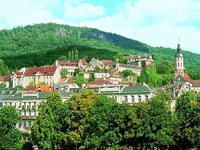 The playground of Europe's royalty and aristocracy in the early 1800s, Germany's famed holiday resort town of Baden-Baden, in the heart of the Black Forest, still draws thousands of tourists who come to relax in the waters and gamble in the casino.
With a name that means 'Bathing Bathing', you would expect that to be the focus of the town, and you'd be right! The Friedrichsbad bathhouse has been the scene of much pampering for over 120 years. Those seeking rest and recuperation on holiday still enjoy its steamy marble confines, soaking in mineral water in the nude. Male and female facilities remain separate, and the roughly three-hour bathing routine follows a strict regimen of showers, hot-air blasts, steam baths and massages.
Nearby are the equally famous Baths of Caracalla, which features indoor and outdoor waterfalls, swimming pools and jacuzzis. The complex houses a 2,000-year-old Roman bath, once used by the Emperor Caracalla. The Baden-Baden casino was built in the 1850s in the style of the Palace of Versailles, and is worth seeing while on holiday, even for those who do not gamble. Baden-Baden is also home to several art museums, a concert hall, and the Castle Hohenbaden.