Rotorua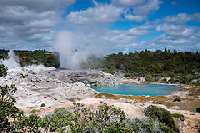 Rotorua © jipe7
The holiday retreat of Rotorua has the most energetic thermal activity in New Zealand. It is a town permeated with the smell of sulphur and surrounded by towering volcanoes. Steam rises from between the pavement cracks and along pathways. There are a number of hot springs and thermal baths, the basis for its fast-growing fame as 'Nature's Spa of the South Pacific'.
Situated on the Volcanic Plateau of Central North Island, the continuous volcanic activity has formed the landscape around Rotorua and the main attractions are based around its natural resources, the 12 crater lakes and numerous geothermal features. The crystal lakes offer holiday activities such as trout fishing and water sports, and nearby geothermal fields feature bubbling mud pools, spouting geysers, and steaming rivers.
Rotorua is also the Maori cultural heartland and visitors on holiday can experience the spirit of their culture in one of the many performances featuring stories relayed through song and dance, and a 'hangi' feast, the traditional Maori method of cooking in an earthen pit.
Website: www.rotoruanz.com