Mineral Bath Swimming Pool Park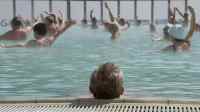 The Mineral Bath Swimming Pool Park in Eger is one of the biggest and best baths in the whole of Hungary according to tourist polls. It offers a selection of pools and mineral baths, both indoor and outdoor, hot and cold, recreational and health-related. There is a special pool for kids and this is a great place to visit if you are travelling with children in Eger. There is also an olympic swimming pool, at a cool temperature, for those who want some exercise as well as relaxation. The pools are very clean and attractive with some interesting water features and there are plenty of food and drinks stalls to keep visitors refreshed.
There are also Turkish Baths, comfy cabins or simple sun loungers available for an extra cost. Although there are some trees to relax under most of the pools are in full sunshine much of the time so you will need sun protection. Unlike some baths in Europe you will also require a swimsuit as nudity is not encouraged. The only downside of this fun park is that its popularity can lead to it being too crowded for comfort - if possible visit on a morning during the week to experience the place at its best.