Gili Islands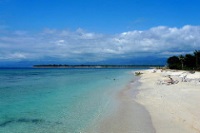 Gili Trawangan © Chris Nener
Situated a few miles off the northwest coast of Lombok, the three Gili Islands - Gili Trawangan, Gili Meno and Gili Air - were 'discovered' by backpackers in the 80s and until recently remained a laid-back haven for budget travellers in search of a peaceful and secluded holiday paradise. The islands are surrounded by glorious soft sandy beaches, colourful coral reefs and crystal clear turquoise waters, ideal for diving.
There are almost no roads or motor vehicles on the islands, with scooters and donkey-drawn carts acting as their replacements. Small ferries transport guests between the Gili Islands, none of which are more than twenty minutes apart. Most of the holiday accommodation is on Gili Trawangan, and this generally consists of small bamboo bungalows a few metres from the beach, like those found on Thailand's islands twenty years ago.
Mainstream tourism is beginning to establish itself on the Gili Islands and a few exclusive hotels have opened up, most recently on the smallest, least developed island of Gili Meno. While there are no major sights or landmarks to see, the scuba diving and snorkelling opportunities are enough to make it a popular destination and the atmosphere and scenery are splendid enough to enchant visitors.