Labadee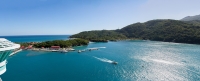 Labadee © Brian Holland
Cap-Haitien is situated on the north coast of Haiti between the Atlantic Ocean and the Morne du Cap. Its surroundings have a lot to offer including art galleries, museums, and beautiful, pristine beaches. About 20 minutes west of this metropolitan area lies the area called Labadee, a paradise of lush mountains and turquoise-blue Atlantic Ocean. Labadee is bursting with history, bright crafts and colourful people, as well as some of the best beaches in the Caribbean. The internationally known beach of Labadee is being operated by Royal Caribbean Cruise Lines, but the town of Labadee is a small fishing village. It is an eclectic mix of affluent hill-perched villas and traditional Haitian dwellings. An oasis of pleasure in a troubled land, the resort destination of Labadee is a cordoned off peninsula which provides a safe and secure base for cruise passengers to disembark and be tendered ashore to enjoy the tropical delights of the island of Hispaniola.
The cruise company has picked a beautiful spot as a private holiday playground for those enjoying its Caribbean cruises, and improved upon it. Labadee has five white, powdery beaches, all lapped by crystal clear waters with offshore coral reefs, a water park, restaurants, bars, shops, and markets.
Labadee resort is more than just an extension of the ship and a place to tread on dry land, though, as visitors can take a number of excursions to experience the local culture and get a taste of the island's rich history. The resort was unaffected by the catastrophic earthquake in early 2010 that devastated the rest of the island.
Further west along the coast is the breathtaking Baie d'Acul, which is almost completely closed off to the ocean and resistant to any storm. Christopher Columbus used this bay as a shelter during his first voyage on the Santa Maria. Across the bay, many small islands and reefs complete the vista.