Jacmel and Bassin Bleu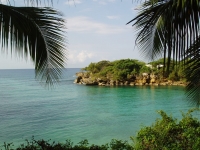 Jacmel in Haiti © Rich Bowen
The southern port city of Jacmel, tentatively accepted as a UNESCO World Heritage Site despite sustaining extensive damage in the 2010 earthquake, is historic and picturesque. Jacmel is known for its elegant 19th century homes and buildings, a vibrant art and music scene, and stunning white beaches.
It is considered one of the safest and most interesting cities for tourists exploring Haiti and even though the earthquake damage is still very evident the place has not lost its charm.
One of Haiti's most beloved attractions are the deep natural pools and waterfalls of Bassin Bleu, just outside of Jacmel. It is possible to hike to the pools but it's a long trek and most choose to drive. The roads are very poor and 4x4s are recommended but some intrepid travellers manage the trip on motorbikes. Although the roads are bad the route is beautiful, with splendid views along the way.
Once you arrive at the village drop-off site you will need to hike for 15 to 20 minutes to reach the main pools; there are always plenty of eager local guides to show the way and help the less fit along. The pools are a glorious turquoise and the water is cool and refreshing, with some thrilling rock jumps for the adventurous to attempt. It is best to take along swimsuits and a picnic and spend a day leisurely exploring the area.
Admission: Free, but local guides will expect a tip.