Lough Gur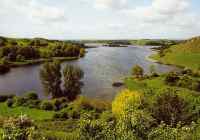 Lough Gur © Christian1965
Lough Gur is a lake situated less than 14 miles (23km) south east of Limerick. Although the lovely scenery is justification enough for an excursion from the city, it is the remarkable archaeological remains dotted around the lake which are the main attraction. Lough Gur has been inhabited by humans since about 3000 BC, and the extensive remains make it one of Ireland's most important archaeological sites. There are relics from the Stone Age, Bronze Age, Iron Age and Early Christian civilizations, as well as Medieval ruins all in one area. These show that Lough Gur has been continuously inhabited for at least 5,500 years. The Grange stone circle near the lake is the largest in Ireland and is seen by locals as a place of mystic power, similar to Stone Henge. There are also grave sites, a dolmen (rock monument), crannogs (artificial islands) and some ring forts.
The site contains a Heritage Centre with exhibitions on Lough Gur's history, which details the significance of the archaeological remains, and brings the place to life in the imagination. However, the best way to explore the area is on a walking tour with one of the very well-informed guides. If you prefer it is possible to take a self-guided audio tour. There are lovely picnic areas and walking trails to enjoy, and a small shop which sells snacks and refreshments.
Website: www.loughgur.com
Telephone: +353 (0)61 385186 / +353 (0)87 285 2022
Opening times: Summer: Monday to Friday: 10am-5pm Saturday and Sunday: 12pm-6pm Winter: Daily: 12pm-4pm
Admission: Adults €5, Children €3.