Malindi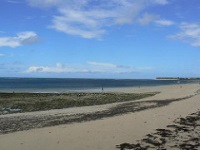 Malindi © Mr Mainuu
Situated on the beach 60 miles (40km) north of Mombasa is the lazy, unashamedly hedonistic holiday resort of Malindi. For most the main attraction is the dazzling white sandy beaches that line the shore. However, for the more adventurous, there is also excellent fishing to be done while on holiday in Malindi. Trips leave early in search of barracuda, tuna and marlin, before the heat of the day sets in.
One of the few authentic Portuguese relics left on the coast can be found on the cliffs at the southern end of Malindi harbour - the cross of Vasco da Gama bears the Portuguese coat of arms and commemorates his arrival here in 1498, definitely worth seeing on any Malindi holiday.
South of Malindi are the Watamu and Malindi Marine National Parks. These protected areas of white coral beaches and stunning blue lagoons are a major holiday attraction for snorkellers and scuba divers. Malindi holidaymakers are also drawn here as the sea is crystal clear in contrast with the Malindi holiday resorts' waters, which are muddied by the Sabaki River. Between the two marine parks is the abandoned 15th century Swahili town of Gedi, where visitors can wander around the ruins of the palace, market place, houses, mosques and pillared tombs.