Mombasa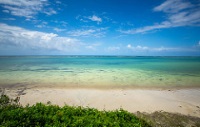 Mombasa © Ministry of East African Affairs, Commerce and Tourism
The hot and humid holiday destination of Mombasa is the biggest port on the east coast of Africa, serving five different countries and located at the beginning of the only railway that crosses the Kenyan interior, built by the British in 1901. Mombasa is situated on an island linked to the mainland by bridges and surrounded by a natural harbour where commercial shipping mixes with traditional sailing dhows.
The main Mombasa holiday attraction is the commanding 16th-century fort protecting the entrance of the harbour, Fort Jesus, whose remnants relay the story of a historic struggle for control of the coast between the Portuguese and Arabs. Behind this, on Treasury Square, is the Government Game Department's Ivory Room, exhibiting elephant tusks, rhinoceros horns, hippopotamus teeth and other animal trophies confiscated from poachers or taken from dead animals on the reserve.
Mombasa's Old Town retains a strong Arab flavour and is the true heart of the city, with an intricate pattern of winding streets alive with the colours of the traditional wrap-around clothing, crammed with faded houses and street sellers, and filled with the heavy scent of spices. It is best to visit the Old Town with an official guide when on holiday, as mugging is not uncommon.
As a large city, Mombasa operates as the holiday hub of the coastal tourism trade, despite its lack of attractive beaches, so most visitors stay long enough to look around before heading either north or south to one the beautiful beach resorts nearby.