Norwich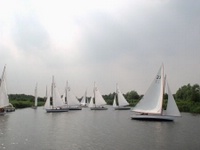 Norfolk Broads yachts © Robert Henson
The city of Norwich, the capital of East Anglia, grew to prominence as the primary market town for the fertile surrounding region. The famous Norwich Cathedral is one of the prettiest in England and, along with the ancient Norwich Castle, dominates the city. Once a royal palace, Norwich Castle is now the centrepiece of a museum housing one of England's finest regional collections of natural history, art and archaeology.
Another great attraction in Norwich is Eaton Park, the largest of the city's historic parks. The vast areas of open parklands, shady avenues of trees and beautiful gardens make this an appealing destination for a relaxing picnic or a leisurely walk. Park facilities include tennis courts, cricket grounds, a cycle track and a skateboard park, as well as a putt-putt course, a children's play area and a miniature railway. There is also a café at the park for refreshments.
On the coast, 20 miles (32km) east of Norwich, visitors can discover Great Yarmouth Pleasure Beach, which occupies a nine-acre seafront site and encompasses over 70 rides and attractions.