Langkawi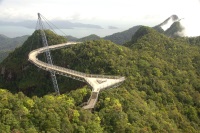 The Langkawi Skybridge © Dylan Walters
Langkawi is the collective name for a group of 104 tropical islands located 20 miles (30km) off the northwestern tip of the peninsula. Pulau Langkawi is the largest and most developed island that draws holiday visitors to its duty-free shores. Much of the island's prolific development has been focused in the town of Kuah, also the embarkation point for visitors travelling by ferry, and there are plenty of shops and modern amenities to be enjoyed.
However, most visitors on holiday in Pulau Langkawi leave the shops behind in favour of the stunning mountainous interiors, limestone outcrops, waterfalls, hot springs and pristine beaches. The best of these beaches, Pantai Kok, lies reclusively on the island's western side, a short distance from the spectacular Telaga Tujuh Falls.
Pulau Langkawi's mystique would be incomplete without a legend. The story relates that a Malay princess was wrongfully accused of adultery and sentenced to death; her dying words laid a curse on the island. Her tomb and the associated Padang Masirat ('the field of burnt rice') can be found a few miles west of Kuah. There is no indication, however, that this beautiful place is suffering under a curse!
Langkawi is easily accessible by boat or air, although during monsoon season the ferry crossings may cease.