Perhentian Islands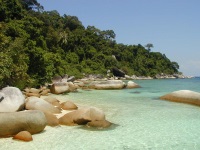 Perhentian Islands © Jpatokal
The popular Malaysian holiday destination of the Perhentian Islands (Pulau Perhentian) is made up of two islands, Perhentian Kecil (Small Island) and Perhentian Besar (Big Island), which are situated about 12 miles (20km) off the northeast coast of the Malaysian Peninsula. Known as a hippie getaway, the Perhentians are a backpacker's paradise. The fishermen double as tour guides, and simple beach bars spill out onto the pristine shore. There is more high-end accommodation available, but the islands have become iconic on the budget traveller's Malaysia itinerary.
The islands are located within the Terengganu Marine Park and offer a largely undeveloped tropical paradise with stretches of white sand, wildlife, and nearby coral reefs. Diving and snorkelling trips around the islands are offered and the water is so clean and clear that you can snorkel off the beach. Perhentian Besar offers more upmarket accommodation than its neighbour. Three Coves Bay, on the north coast, is the best place to watch turtles between May and September.
The islands can be reached from the town of Kuala Besut; taxi boats shuttle visitors between the two islands. Note that the east coast monsoon often renders the islands inaccessible between November and January.